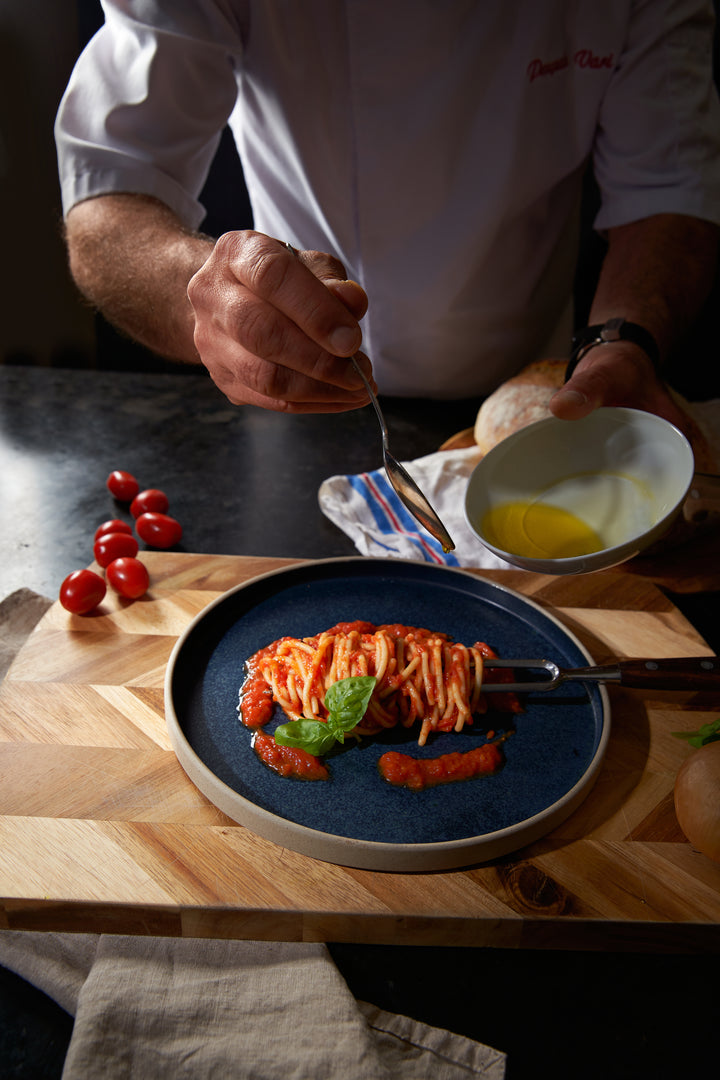 From my kitchen to yours
I present to you this sumptuous selection from the classic repertoire of the fine Italian tradition, prepared to perfection. It is executed with precision, finesse and the excellence of the highest standards. I cook to make people happy and this is a wonderful opportunity for me to share this passion with you. Buon appetito!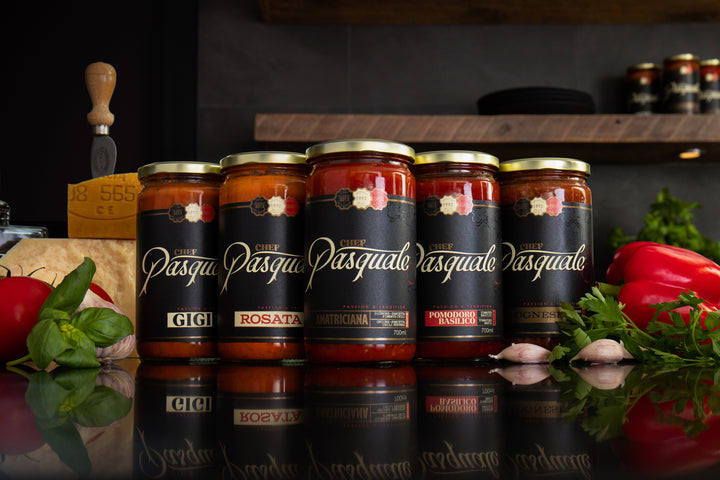 Our story
Our story is one of the meeting of three people whose paths crossed. Pasquale, Frank and Jonathan. Our friendship began in 2000 when Frank entered as a student at the ITHQ where I taught Italian cuisine. From there, I continued my journey and Frank his, standing out as a cook in many fine restaurants. He eventually developed and launched his hot sauce line, and then came up with the idea of ​​launching pasta sauces. Then, at the start of the pandemic, the pace slowed down. We all had to start thinking differently. That's when Frank offered to join forces to make this project happen. We developed the recipes to our satisfaction and then researched the products and suppliers that would allow us to offer them to you without compromise. Jonathan who had worked with Frank on hot sauces joined the team with his brother to help us develop the branding that allowed us to finally get these sauces to you.
The fine italian tradition
The pillars of Italian cuisine come down to its elegant simplicity, fresh premium ingredients and flawless execution. It is a craft that requires know-how, technique, experience and attention to detail. This is what makes it this authentic and memorable experience that transports us with its rich flavors.
Chef Pasquale
Born in Italy, Pasquale Vari has held the position of head teacher at the Institut de tourisme et hôtellerie du Québec (ITHQ) since 1995.
Graduated in Italian cuisine from the Vibo Valentia Hotel School in Calabria in 1984, he has been a consultant and permanent judge since 2009 on the cooking show "Les Chefs" on SRC.
He is also a chef on "5 Chefs dans ma Cuisine".
His years of experience in France, Italy and Quebec make him a first-rate player, in great demand on the restaurant and gastronomy scene in Quebec.
Since 1999, he has been a culinary consultant for the catering activities of the Italian Chamber of Commerce in Canada and for various cooking shows.
Continue




WHERE TO FIND US
Available in all Métro Locations and participating Retailers